Coronavirus: Should I be changing my Investments?
Sun Feb. 9th 2020
As the Coronavirus epidemic enters it's tenth week, we have seen some sharp movements in the global markets as a result.
Investors around the world continue to assess the long-term economic effects of the epidemic, with mixed verdicts. The closing off of cities and travel restrictions around China have got the financial world speculating about a financial downturn due to a reduction in Chinese manufacturing output and trade. However just because the markets might be making big moves, does that mean you should be too?
So what should you be doing? Unless you are an investor who trades daily in Asian stocks and shares, you should be considering a more measured approach. Jeremy Edwards of Cambridge Independent Financial Advice firm Martin-Redman Partners believes that 'experience suggests that chasing the news cycle is an exercise in futility, as you will buy and sell in exactly the wrong places.'
What can go wrong with buy and sell decisions if you don't have a long-term financial plan?
Invest for 5 years plus. The minimum professionally advised investment time horizon is around five years, so the news cycle of 24 hours is less relevant than typical economic cycles that seem to be around 15-22 years. While short-term trading can make money, there is more risk involved than in buy-and-hold strategies.(Source of images: 'The Behaviour Gap' by Carl Richards)
2. Ensure your investments are diversified across several asset classes, sectors and geographic areas. It aims to maximize returns by investing in different areas that would each react differently to the same event.
3. It's time in the market, not timing the market. No-one can accurately time when the markets will peak at their highest, or fall to their lowest. Much of the cost of investing is the transactional costs for buying and selling, so minimising "Churn" will make the best of gains made by being in the market. Investing requires making informed decisions based on things that have yet to happen. Past data can indicate things to come, but it's never guaranteed. Sometimes, doing nothing is better than doing something for the sake of it. Investors may want to take a cue from Apple CEO Tim Cook, who has taken a wait-and-see approach to the Coronavirus outbreak.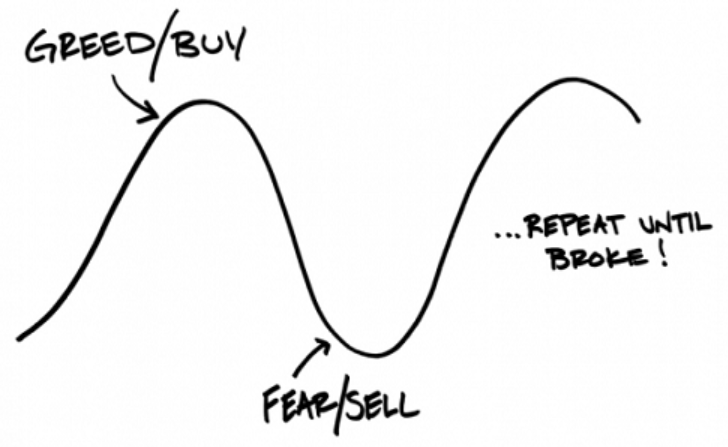 4. Don't sweat the small stuff. Rather than panic over short-term movements, track the big-picture trajectory. Have confidence in an investments larger story rather than being swayed by short term volatility.
5. Pick a strategy and stick with it! There are many ways to invest, but it is important that you pick a philosophy and stick with it - doing anything else makes you a market timer and that can be dangerous territory! Take heed of Warren Buffet who avoided the dotcom boom of the late 90's, avoiding major losses when tech startups crashed. Try writing down your strategies in a flowchart and map out what you will do or how you will react in different market conditions. If you cannot describe your strategy as a process, there is more chance you are likely to end up winging it! If you are unsure of your strategy or want a proven evidence based investment strategy, contact us.
Historical data shows that markets typically recover following an outbreak. If you are planning for the long-term you should not get too caught up in what is happening in the here and now - as we have seen with the likes of SARS and Ebola, these things come and go.
It's important to remember that investing is not all or nothing, and certainly not a ''one size fits all'' game. Instead, use an adviser who can explain the nature of the markets, and give you advice on where best to invest and how to organize your finances.
If you have investments that you aren't entirely happy with then we should chat and show you what we can do for you. Email or call us on 09 903 7210 for a no obligation discussion.
Need some help?
Drop us a line using the form below and we'll be in touch to talk through your insurance or financial needs.