How do our spending habits change in retirement?
Tue Aug. 20th 2019
It will come as little to surprise that retirement is one the biggest lifestyle changes you'll ever experience. But what you may not be aware of is how your spending habits may alter too.
Former Australian Prime Minister Hon. Paul Keating argues that there are two groups in retirement - those aged 60-80, and those aged 80-100. ''The 60-80 year old group is all about retirement living and lifestyle, whereas the 80-100 group (which is technically, the period of life beyond the previous life expectancy) is more about maintenance and disability and less about lifestyle.''
Research by actuarial firm Milliman shows just how people spend their money in later life, the findings of which tend to back up Keating's argument.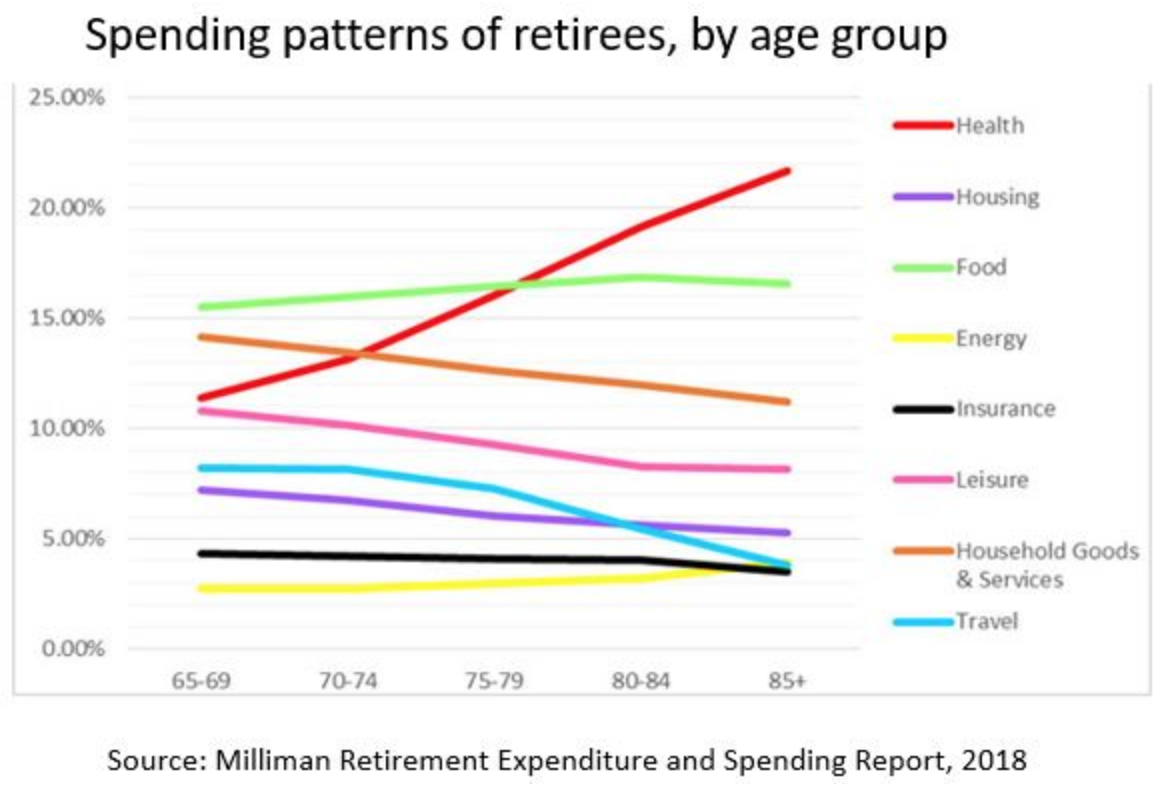 The clear indicators here are that more money is being spent on travel in the earlier years, whilst significantly more is spent on health in the later years. Of course it could be argued that younger age permits more active adventure, whereas in later life issues such as mobility can restrict this. Whilst this may be the case, there is, however, scope to argue that travel is simply not possible the older you get due to a decline in assets and a shift in priorities of where money needs to be better spent - on healthcare for example. Whilst Household Goods & Services, and Housing in general also show a decline, economic and social factors in New Zealand can paint a different picture. Our homes are often regarded as our biggest asset during our working life, contributing to our retirement nest egg with the intention of selling and downsizing as we hit retirement. The reality for many New Zealanders however is very different, as this concept generally only works if you move from a high to low socio-economic area. Also, a rapidly rising elderly population increases the demand for smaller 1/2 bedroom units, therefore pushing up the cots of buying or renting such a property, and making the benefits of trading down minimal.
'The Milliman Retirement Expectations and Spending Profiles (ESP) shows that the median retired couple's expenditure falls by more than one-third (36.7 %) as they move from early retirement (age 65 to 69) and into older age (85 years and beyond).' The same level of decline was found in poor, middle-income, and high-income retirees, suggesting age is as much of an indicator to retiree's behaviour than their income.
The research is conclusive that overall expenditure declines as we age, and this data and trends could be beneficial when considering retirement planning. Whilst there is 'no one size fits all' solution to spending in retirement, understanding the long-term consequences of a lack of forward planning is key - it is as important to budget during retirement than it is in the preceding years.
Contact us for financial advice on saving strategies and product design to find the fund that will meet your retirement lifestyle needs.
Need some help?
Drop us a line using the form below and we'll be in touch to talk through your insurance or financial needs.