Leading causes of death
Thu March 19th 2015
Understanding Risk. Or why you should worry about fruit and veggies more than plane crashes.
Humans aren't very good at risk assessment. We all worry about injury and death, but tend to overestimate the dangers of some activities and underestimate others. We're often more worried about scary things we can't control – like air travel or stranger danger – and less concerned with the day to day – what we eat and how often we exercise.
Understanding risk can also help you make better choices about insurance, so you can protect yourself against real dangers rather than wasting time and energy worrying about things that aren't likely to happen.
Putting death in perspective.
Talking about health and life insurance can be unpleasant. No-one wants to think about their health deteriorating, or themselves or their loved ones dying. Some people have an 'it will never happen to me' mentality, which makes them unwilling to think about their risk levels at all.
This graph shows the leading causes of death in the UK. You may find it a bit surprising. Most deaths aren't caused by air travel or murder, but health issues like heart problems, cancer and respiratory disorders. In fact, the top seven causes of death are not covered by ACC in New Zealand, which means that insurance is really the only way to protect your future should the worst happen.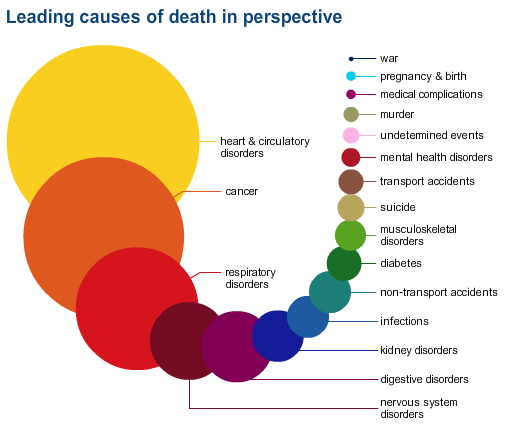 What's the risk?

We take risks every day – but the choices that make us the most anxious may not be the most risky. This chart shows the risks most likely to lead to death or illness. We don't always think of things like not eating enough vegetables or having high blood pressure when we think of risk.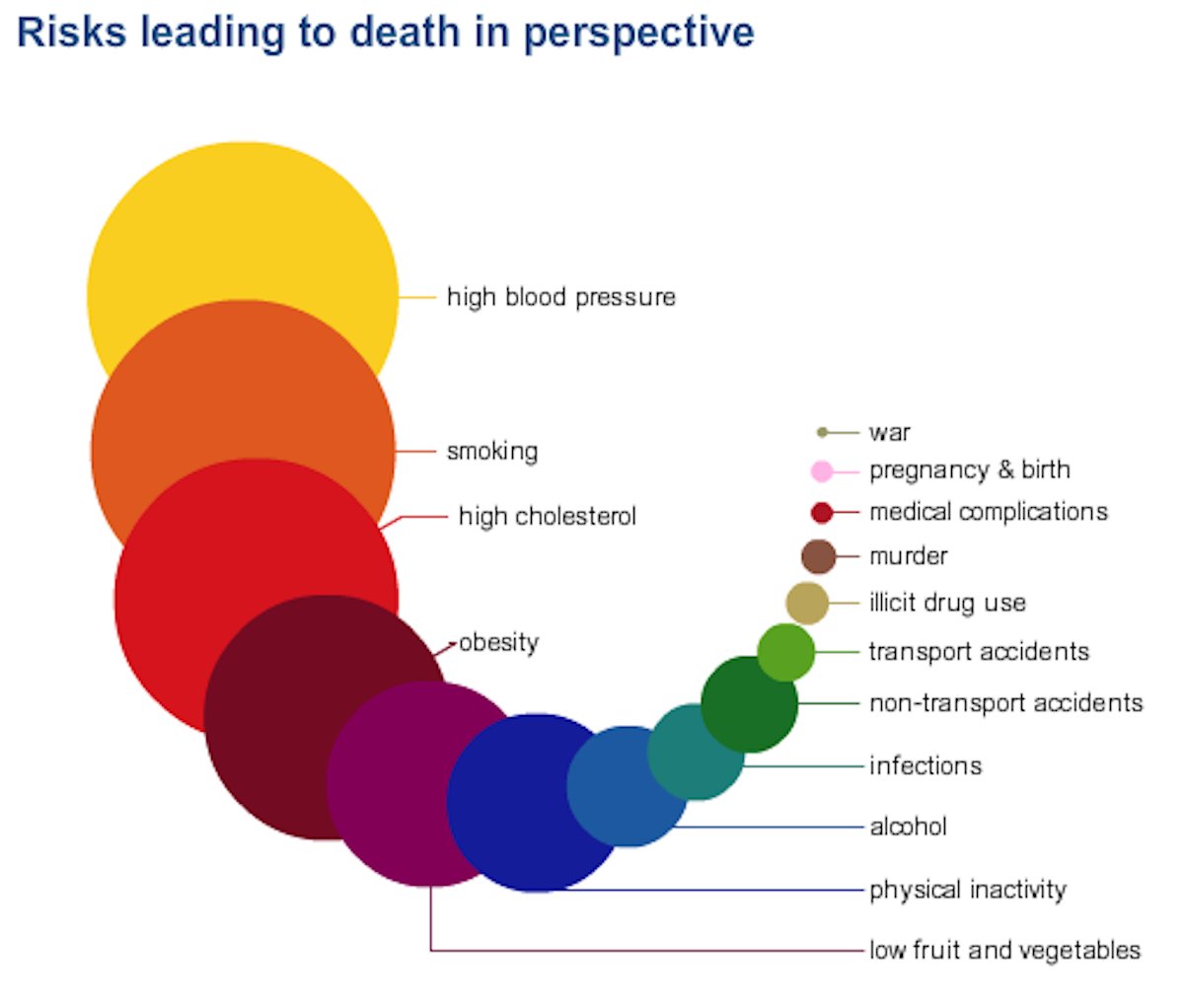 Preventative measures.
Seeing the risks laid out so starkly may be a bit alarming – but that's not necessarily a bad thing. Knowing that largely preventable health problems are the leading cause of death can help you make better choices.
Protecting against risk.
Of course, insurance is another way to better manage your risks. Even if you make healthy food choices and exercise regularly, you're not immune to health concerns or death.
Tailored health, income, trauma and life insurance give you protection and peace of mind. In case of disease or illness, insurance can mean your medical care is taken care of, and the mortgage is paid. Life insurance is assurance that if the worst happens, your family will be all right.
My business is about making sure people have the right insurance to suit them and their levels of risk – so they can let go of their worries and enjoy life. If you'd like to talk more about cover for life's real risks – please don't hesitate to get in touch.
Until next time,
Mike
Images: Atlas of Risk by UK's National Health Service
http://www.nhs.uk/Tools/Pages/NHSAtlasofrisk.aspx
Need some help?
Drop us a line using the form below and we'll be in touch to talk through your insurance or financial needs.