The Myth of 2020 Vision
Thu Jan. 30th 2020
Jim Parker, Vice President of Dimensional Fund Advisors, looks at how this years political and economic events could shape the financial markets, however he advises to err on the edge of caution if your usual investment behaviour is determined by what you read in the press.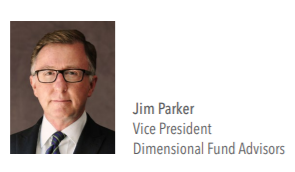 The dawning of a new year is a favoured time for prognostication. It's summer time in Australia and New Zealand, after all, and the punctuation point of the holiday season provides a natural opportunity for reflection and speculation.
Naturally, there is a high degree of expectation of what lies ahead in 2020, the first year of the third decade of the third millennium. The US faces a presidential election this year, the UK leaves the European Union and Tokyo hosts the Olympic Games.
Closer to home, New Zealand is due to hold a general election this year, although at time of writing the exact date had yet to be set. In Australia, Queensland State is due to hold its state election at the end of October.
Obviously of these events the US election is the big one. And there is bound to be a significant degree of speculation as we get closer to November about possible outcomes and what they might mean for financial markets.
However, before acting on these forecasts, it's wise to look at what pundits predicted in past years. For instance, in early 2016, the year of the last US presidential election, we were told by one business broadcaster that markets tended to fall in election years.1
By the end of that year, however, global equity markets— as measured by the MSCI World Index—had delivered a total return of just under 9% in AUD terms. This was after Trump's win in defiance of many polls, and the outcome of the Brexit referendum.
Go forward nearly three more years, and you didn't have to look far to find grim commentary. The BBC told us, in early 2019, that "clouds were gathering over the global economy"—with threats from rising interest rates, tariff wars, Brexit and a slowdown in European manufacturing.2
Yet, global equity markets went on to rise around 27% in 2019, their best performance in six years. The Australian market had its best year in a decade, while the NZ market rose for an eighth consecutive year to record its strongest performance in more than a quarter of a century.
What happened? While early expectations were that interest rates would rise, they fell on average over the year. The US-China tariff issue buffeted market sentiment through the year before a late truce in December appeared to ease nerves again. As for Brexit, the Conservatives' overwhelming victory in December's election at least settled whether the UK would leave the EU. Markets absorbed all that news and moved on.
All this is not to downplay current uncertainties or to forecast another bumper year in 2020, but rather to advise caution when reading media and market commentary about what the coming year might hold.
There are any number of events that could move markets this year, but there is little point in speculating about any of them—as a long-term investor at least.
What you can do is work with an advisor to build a portfolio that is designed for your investment goals, risk appetite and time horizon, manage risk through diversification and rebalance periodically as markets change and as your circumstances evolve.
What you can be sure of is events will occur and news will break. Some of that news will be largely anticipated and priced in. Other news will be unexpected and move prices.
But no one yet has shown an ability to have perfect foresight, or 2020 vision.
Let us know if you would like a more detailed look at the market year-in-review.


1. 'Why Markets Tend to Fall During a Presidential Election Year', CNBC, 13 Jan, 2016

2. 'Clouds Gathering Over Global Economy', BBC News, 3 Jan, 2019
This article has been prepared and is provided in Australia by DFA Australia Limited (AFS Licence No.238093, ABN 46 065 937 671). The article is provided for informational purposes only. Any opinions expressed in this article reflect the authors judgment at the date of publication and are subject to change. No account has been taken of the objectives, financial situation, or needs of any particular person. Accordingly, to the extent this material constitutes general financial product advice, investors should, before acting on the advice, consider the appropriateness of the advice, having regard to the investor's objectives, financial situation, and needs. This is not an offer or recommendation to buy or sell securities or other financial products, nor a solicitation for deposits or other business, whether directly or indirectly. ©2020 Dimensional Fund Advisors LP. All rights reserved. Unauthorised copying, reproducing, duplicating, or transmitting of this material is prohibited.
Michael is an expert in his field and really goes the extra mile to ensure a professional, thorough and enjoyable experience when looking for Insurance cover or trusted Financial advice. Highly recommended.

Johnny Robinson

Michael has a wealth of information to share with regards to financial planning...he has always provided valuable information to both my clients and me without being a pushy sales person!

Vijay Nyayapati

I am thrilled with the advice and service Michael provided me for financial planning and for personal insurance. Trustworthy and a very nice chap! I highly recommend his services.

Andrew Malmo

Michael has consistently provided excellent service, financial advice, support and follow-up on insurance services for my business. I would highly recommend Michael to anyone needing clear and honest financial advice.

James McGoram